About Patidar Group
Patidar Group is a parent company of
Agro Products
holding
Four
organizations under it. These are namely:
Patidar Agro & Food Products
Patidar Flour Mill Industries
Patidar Agri Care
Patel Machinery Stores
Our Inspiration... Our Guiding Light
Patidar Pure Eat Range of food products like Indian Mixed Pickles, Mixed Vegetable Pickles, etc. have acquired an enviable niche in numerous domestic and commercial kitchens across Gujarat presently.
Our company started its journey of 1000 miles with an initial step taken by the great efforts of our mentors like
Mr. Ashok Patel, Mr. Harshad Patel, Mr. Dinesh Patel, Mr. Alpesh Patel
and
Mr. Vipul Patel
since
2009
.
The story of our success began with the visionary mission of our company to deliver hygienically processed highest quality food products to our clients. Post the launch of Patidar PureEat Pulp in 2009 and Pickle in 2012 we deliver a treat filled with taste for numerous Gujarati families across India.
Mission
We foresee to retain the original and pure authenticity in flavors and tastes in all our products like pulp, mixed pickle, vegetable acchar, sweet pickle and chutney. We also follow stringent quality checks through each on the basis of strict parameters.
Vision
Our simple visionary aim is to become a leading food company of Gujarat which offers not just superior taste but also highest nutrition in its food products for numerous clientele across the entire marketplace.
Guiding Principals to Achieve our Mission & Vision
Empowerment- Underlining dynamism and drive to Empower our team of talented personnel.
Excellence- In Quality and Improvement of Products.
Innovation- In efforts to achieve Better Product Quality.
Motivation- By Rewarding the efforts of our people and their achievements.
Passion- Passion to deliver best value for our products of leading brands.
Respect- For our Principals, Patrons and People.
Risk Tolerance- Encouraging Risk for Initiators and Takers.
Certificate
Our company has achieved numerous awards, certifications and recognitions for the superior quality and taste of our products. We have complied the requisites of foods safety and GMP at every level of production. Some of these are listed below:
ISO 22000:2005 Certifications
IEC (Import Export Code) Certified
Certified member for Export by Indian Spice Board
Registered In USFDA
FSSAI & HACCP Certification
APEDA Registered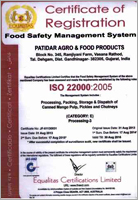 Read More